Improve your Search Engine Optimisation
29th March 2016
Published by David Pottrell
Now that it's possible to create a website at relatively little cost, start-up companies as well as established businesses have an increasing number of competitors making Search Engine Optimisation (SEO) even more vital for business success.
How can you improve your website's Search Engine Optimisation
The advice below is just a small glimpse of SEO so we'll be building on this blog post over time. If you're interested in improving your page's performance or would like some further help, please don't hesitate to get in touch, and we'll do our best to help.
Meta tags and other optional tags
When adding a page or blog post you should add relevant meta information to explain to a potential reader what the page is about. This is important solely because some of this information is used by search engines in your pages preview. It's essentially the covering letter to your website.
Each page or post should have a clear meta title to tell the user what the page is about. This tag should be no longer than 65 characters (any more and the characters over this limit run the risk of being cut off from view).
A meta description should also be used to give a summary of the page and be limited to a length of 160 characters. By doing this you will increase your potential click through rate (CTR) in search engines. It works hand-in-hand with the title tag to explain to the potential reader what it is the page is about. For some extra help, it's worth reading Meta tags that Google understands.
It doesn't stop at the description, the arrival of social media has brought with it the introduction of social meta tags. We're sure many of you use either Facebook, Twitter, Google Plus, LinkedIn or Pinterest, so many of you will have seen page previews similar to this: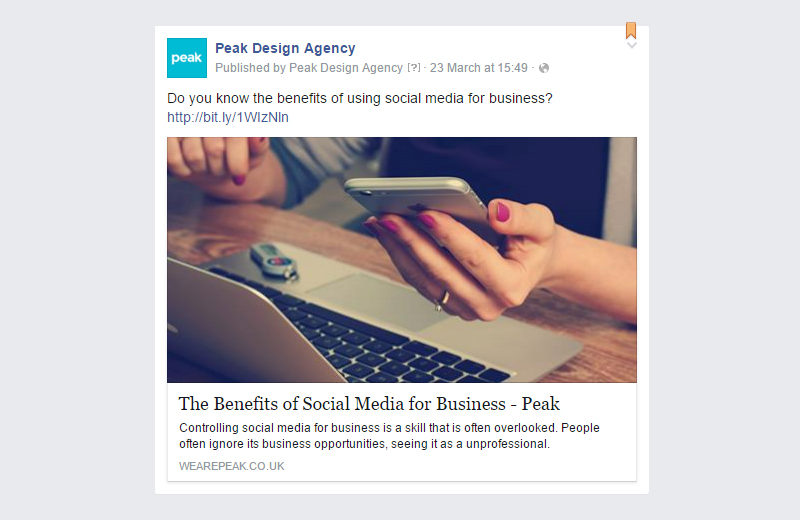 This information is pulled from the page that has been linked to in the post. Social media platforms will attempt to pull this information by itself but more often than not, it's better to take control and point it in the right direction.
If you're interested in how to make the most of your page on social media, I strongly recommend reading Must-Have Social Meta Tags for Twitter, Google+, Facebook and More.
Remember to target the right keywords
Enthesis on the right keywords here. Many websites make the mistake of targeting the wrong keywords or going straight into focusing on high-profile search terms. This isn't a problem necessarily but it can take a while to see results.
Taking advantage of Google's Analytics with Webmaster tools, you can find out how your website is performing under certain search terms. Take the time to analyse the keywords that produce conversions and make you money.
By using Google Analytics, you can see how visitors are interacting and finding your site to make improvements where necessary.
It's also worth mentioning that, when I say 'target the right keywords', I don't mean to repeat the same keyword multiple times on your page, this is called keyword-spoofing and should always be avoided. Matt Cutts from Google, explains in the video below about the right keyword density:
As Matt explains, use keywords throughout your content, but find the right balance and write your content for the user. If you're not sure on the balance, ask someone to read your content – they shouldn't notice a repetition.
A correct header tag structure
This is another important aspect of search engine optimisation we often see overlooked or misused. You should use heading tags such as H2, H3 and H4 to highlight various headings, sub-headings and/or important points. For example, you'll notice that on our blog, we only use the H1 tag for the main title of the article. All other headings follow on from this tag to H2 onwards.
The most popular mistake is to use multiple h1 tags throughout a page. Although this isn't 'too bad', it should be avoided unless absolutely necessary (if your page splits into two subjects perhaps).
Here is what Matt Cutts has to say about heading tags and repetition.
It's worth noting that, where possible, your header tags should simply outline what the adjoining content is about. Make it interesting if you can, especially if it's for a blog post.
Effective URL structure
This is pretty simple but still a key aspect of helping your page out on search engines. An effective URL structure can be the difference between the user clicking through to your page or glancing over it. To borrow an example from Google:
…if you're searching for information about aviation, a URL like http://en.wikipedia.org/wiki/Aviation will help you decide whether to click that link. A URL like http://www.example.com/index.php?id_sezione=360&sid=3a5ebc944f41daa6f849f730f1, is much less appealing to users. – Google
Not only is the former more appealing, but it's certainly easier to remember and share!
There's more to come!
Just like search engine optimisation, this blog post will continue to change when we have some more tips and tricks for you. Please do check back in future or keep an eye on our Facebook or Twitter pages.
SEO Checklist
Keyword in Title
Engaging and relevant text in the first paragraph
Optimise images (reduce size where possible)
Image Alt tags
Tweaked keyword in H2 or H3
Bold important Keywords
Italics 1-2 important Keywords
Outbound links to relevant, high-quality pages
Internal links to related articles where applicable
Add multimedia (Video, Images etc)
Write content for the user, not a robot